We understand that people with developmental disabilities are often left out of conversations around relationships, sexual health and decision making. Additionally, those with developmental disabilities experience a significantly higher rate of sexual assault, unplanned pregnancies and STIs.
At SHORE Centre, we are committed to providing accurate, accessible information to all members of our community. After engaging in a community consultation process, we used participant feedback to inform the development of "SexAbility" – a Sexual Health Program for people with developmental disabilities consisting of weekly workshops.
We also recognize that parents, caregivers and support staff are essential to those they care for. We provide support and education to increase your knowledge and comfort in talking about and teaching sexual health.
Program topics can include, but are not limited to: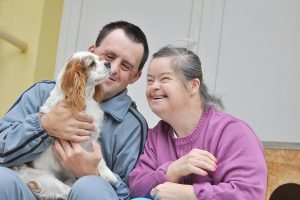 • Relationships & Dating
• Staying Safe Online
• Informed Decision Making
• Consent & Boundaries
• Anatomy & Puberty
• Gender & Sexuality
• Birth Control & Pregnancy Options
• Safer Sex & Sexually Transmitted Infections
• Masturbation
• Talking About and Teaching Sexual Health
These free workshops are presented in partnership with Extend-A-Family, a developmental services organization in Kitchener. Participants can self-refer for the workshops, and do not need to be clients of Extend-A-Family. Each workshop is presented in a non-judgmental, safe environment where participants are free to share their opinions and thoughts. Registration is free, and can be accessed through the Extend-A-Family website under the Wellness Training titled Sex Talks, Talking About Sexuality – Caregivers and Families and Talking About Sexuality – Support Providers.